Flower Bed Installation & Care in Washington, Connecticut
Washington Landscaping Services backed by 20+ Years of Experience
Wondering how to construct a flower bed?  There are several ways to start your flower bed construction but the general principles are closely related.  Our Washington Landscapers can offer you tips and services to make sure your garden will flourish.  Keep reading for more information on flower gardens.
How to Plan for a Garden Bed
Careful planning is the key to a flourishing flower bed.  Your flower bed construction will inevitably fail if you just wing it.  Whether you're planning for a herbaceous border, your own miniature orchard or botanical garden, read below the tips and tricks of planning your allotment right.
Things to Consider When Planning Your Flower Bed Installation
Backyard or side yard, the location of your garden is very important.  Your location will fall under one of three categories:

Full Shade Flowers
Half Shade Flowers
Full Sun Flowers

Choosing your flower types correctly!  Believe it or not - some plants aren't compatible together.
Overall Flower Bed Design.  The most beautiful flower beds are created with careful planning.  Get the pencil and paper out and design your flower bed before picking up a shovel.  You'll want to know exactly where all the plants will go and layout of the bed first.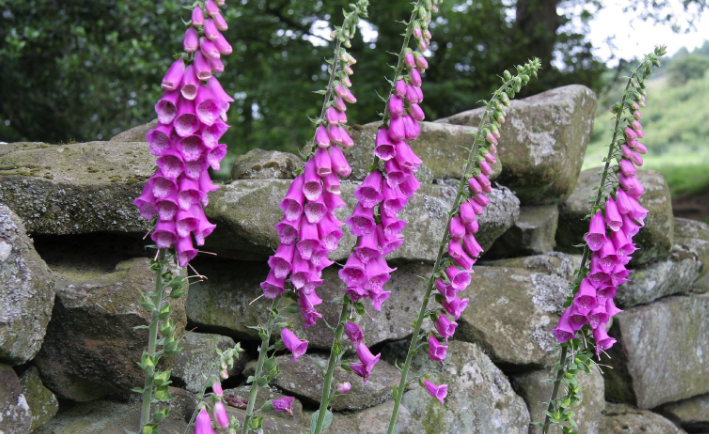 Often people planning a new flower bed construction think that if the bed is located in the shade they'll have no choice but to have a foliage garden.  There's a variety of flowers that grow in the shade.  Which flowers grow well in the shade?  Read below to find out!
Perrenials - The Best Shade Flowers!
Astible
Bee Balm
Bell Flowers
Bleeding-Heart
Forget-me-not
Foxgloves (pictured on this page)
Hellebore
Hydrangea
Jacob's Ladder
Lamb's Ears
Lily-of-the-Valley
Monkshood
Primroses
Siberian Iris
Spotted Deadnettle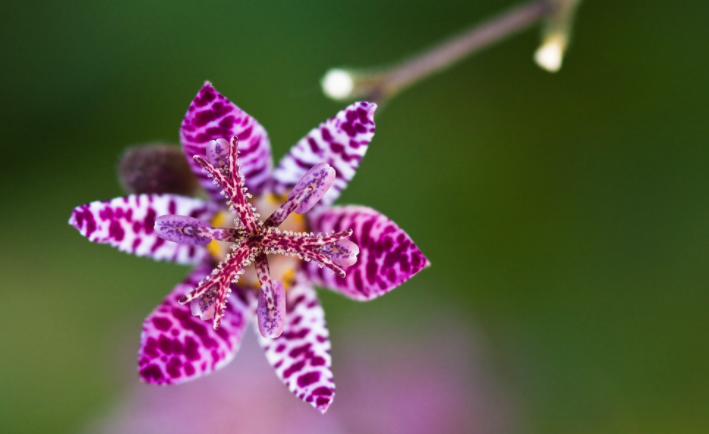 Half Shade, Half Sun Flowers
Imagine a garden full of blooming flowers (perennials) for the gardener who's simply stuck with partially shaded and partially sunlit land.  There are a variety of beautiful perennials that make a pleasant addition to half shade gardens.
Perrenials - The Top Half Shade Flower!
Primrose
Lady's Mantle
Leadwort
Toad Lily (pictured on this page)
Voilet
Crested Iris
Bugbane
Columbine
Woodland Phlox
Bleeding Heart
Hardy Begonia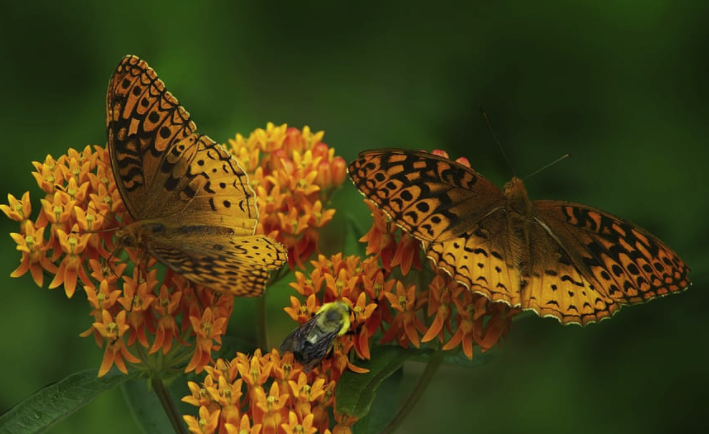 Direct Sun?  There's many flowers and plants that thrive in direct sun.  Growing plants in full sun is thought to be very challenging, but with this list of full sun flowers you'll have be one step ahead of most gardeners.
Full Sun Flowers & Plants
Yarrow
Shasta Daisy
Coreopsis
Purple Coneflower
Blanket Flower
Russian Sage
Butterfly Weed (pictured in this article)
Lavender
Sedum
Daylily
Verbena
Bee Balm
Aster
Lamb's Ear
Artemisia
Hibiscus
Cone Flower
Miniature Roses
By now you've discovered the best area, whether it's complete shade, partial shade or complete sun and you've picked the most suitable plants. Now it's time to begin dealing with the garden job. Thinking of digging up the turf? You can either plant on top of the yard using layers of cardboard and paper or hang out digging. If you decide to dig out the yard, start by flagging the perimeter of the flower bed. Dig about 5-6 to inches around that boundary. From there you need to have the ability to easily lift out the layer fo turf because area. Remove all the leaves, sticks and misc debris. Be particular that you've eliminated all yard prior to you begin the soil loosening up procedure to prepare yourself for planting to start.
The 2nd method is to smooth out the turf with sheets of newspapers and cardboard. Merely set out the cardboard on the preferred location. Discard water on it and expanded a couple lots sheets of documents. Include your compost and let it sit. If you select the cardboard technique you may end up waiting a number of weeks for the layers of garden compost to break down prior to you can begin your planting.
Planning how you're going to plant your flowers is as essential as really doing the planting. Always plant in the early morning or at dusk to avoid direct sunlight. The last thing you wish to do is come out with a ruthless sun burn! Taller plants are best suited for the middle of the bed while the smaller sized plants generally prosper better on the side. Many gardeners cluster their plants and flowers based on their color. After planting the flowers, ensure you mulch and water really generously. Mulching is an excellent method to prevent evaporation while keeping weeds controlled.
Need Professional Flower Bed Help?
At Paradise Lawn & Landscaping, we get it - flower beds take a lot of time, work and energy to create and maintain.  Our Landscapers in Washington, CT are ready to help.  You design it and we'll make it happen.
Our Phone Number: 860-935-6330
Paradise Lawn & Lansdcape's Service Area:
Washington, Litchfield County, CT including 06755, 06776 and 06794.  We also service neighboring towns including Kent, New Milford, Roxbury, New Fairfield, Sherman and Brookfield.
100% Free Same Day Estimates!